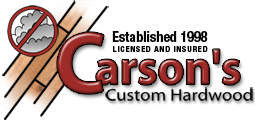 Types of hardwood flooring
Understanding a little about the various types of solid wood flooring can help you make a confident selection of your hardwood choices.

It helps to know that wood flooring comes in several types:
Solid Wood Flooring
Engineered wood Flooring
Exotic Wood Flooring
Prefinished Wood Flooring
Unfinished Wood Flooring
Once you've selected the type of flooring, you can then choose between planks or strips to make installation easier.
There is also a wide variety of wood choices—see the list below. To help decide which variety of flooring is best for your setting, look at the locality within your home and the type of subfloor.
Solid Wood Flooring
Solid wood floors come in solid pieces of wood that are then fitted together.  They are best installed on floors on main levels above the ground or upper floors since they are sensitive to humidity, or they can be installed over approved wooden subflooring. Solid hardwood flooring is made from the best local and exotic hardwoods including:
red & white oak
hickory
maple
Brazilian cherry
American cherry
Solid wood floors add instant beauty and elegance to any room, last for decades and can be refinished and recoated again and again without having to be replaced.
Engineered Wood Flooring
This type of flooring is made by laminating and coating numerous hardwood layers together to make the planks. The flooring is glued down, stapled or even installed over a subfloor such as wood, concrete or flooring that already exists. Engineered hardwood floors do not expand and contract with the humidity, which makes these floors a good choice for any level of the home.
Exotic Wood Flooring
These types of woods come from all over the world and offer rare and stunning appearances noticeably different from the North American hardwoods.
Prefinished Wood Flooring
Prefinished floors are usually installed in one day with an immediate effect to a room.
Unfinished Wood Flooring
Unfinished floors take a longer process of several days to install, stain and apply a finish to the flooring with beautiful end results. Now that you know the various types of wood flooring, it is important to know that there are basically three grades of wood to choose from for the best choice for your home or office:
1. Top Grade
Select red oak and others like it is a top grade hardwood. Visually it has very few knots and the variation in color is minimal and runs in the region of $5 per square foot.
2. Medium grade
Natural maple and others in this grade have more variation in color and contain small knots throughout the wood.  It is slightly harder than red oak and therefore is often used for gym floors or bowling alleys and the like. The natural grade costs about $4 per square foot.
3. Lower grade
Rustic ash has larger knots throughout the grain and contains more of a color variation and greater character to the wood. While this is a less formal wood, which would be a good choice to put in a family room or bedroom, it makes for an excellent floor and is lower in price, ranging in the $3 per square foot.
Want to see all your choices of hardwood?  There is a broad range of wood types from which hardwood can be produced:
American Cherry
Apple
Ash
Bamboo
Beech
Birch
Black Walnut
Brazilian Cherry
Brazilian Teak
Chestnut
Cork
Hand Scraped
Heart Pine
Hickory / Pecan
Kempas
Maple
Merbau
Red Birch
Red Oak
Santos Mahagany
Southern Yellow
Teak
Tiger Mahagany
Tigerwood
White Oak
With such a broad range of excellent choices in hardwood flooring, contact 801.830.9663 for expert help in which type of flooring is right for you.