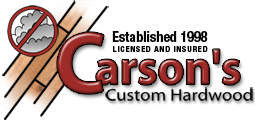 Home level flooring
Before choosing a type and design of a hardwood floor, it is very important to first consider on which level and room the hardwood will be installed.  Knowing this will determine the type of flooring that can be installed.

Here is a quick guide to the best flooring options for each area of your home:
First, determine if the room is above ground, on ground level or below ground.  This is also termed as "above grade", "on grade" or "below grade".  This is essential because solid wood floors are approved only for rooms above or on ground level since solid wood floors last longer and function better in areas of the home where humidity can be controlled.
Entry or Foyer
Entry ways are high traffic areas and also tend to be more formal since this is the first impression one has of the home.  High quality solid wood flooring can be installed in this area with beautiful accents or borders to create a visually stunning first impression of a home.
Kitchens & Family Rooms
These areas are ideal for solid wood flooring and are the most frequent places for hardwood floor installations or remodels. Because of the open floor plans and how easy hardwood floors are to keep in such high traffic areas, it is a very popular place for wood floors. To keep them in great condition, clean regularly and always wipe up food and water spills immediately.
Bathrooms
Solid wood flooring in a bathroom that is used daily would not be a good choice, since continued moisture would be exposed to the wood. However, a guest bathroom which is not used on a daily basis could be considered. Be sure to wipe up any water immediately and use bath mats and area carpets to absorb any water that falls on the floor.
Formal Living and Dining Rooms
These rooms are a good choice for high quality solid wood or engineered wood flooring, and with beautiful oriental rugs as accents or hardwood border inlays, turning blocks or corner accents, this area can be a haven of beauty for you and your family or guests.
Basement
Since humidity and type of sub floor might be a concern, solid hardwood floors are not the best option for this area.  If the basement is a concrete slab, an engineered hardwood floor or floating hardwood flooring (where the flooring is placed over an existing subfloor structure) is an ideal option.
Home offices, Bedrooms
Wood flooring works very well in bedrooms or even home offices with an area rug or carpet.  Use caution with rolling furniture such as chairs or TV stands which can damage the finish very quickly.
Keeping in mind which level of the home to that you want your hardwood floors installed on will help you determine the best type of flooring for you.