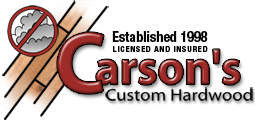 Hardwood flooring facts
When beginning to learn about hardwood flooring, it is important to understand some of the terms used in the industry as well as the different types of flooring.

How is solid hardwood different from other hardwoods?
Solid hardwood flooring is manufactured from one thick piece of wood and has a beautiful and elegant look in a home.  One benefit is that it can be sanded and refinished several times to help it last for decades. Its color can even be changed during the refinishing process to change the look of the floor. Solid wood expands and contracts with environmental fluctuations of the home more so than engineered wood. Knowing the differing types of solid wood before making a purchase is very important as some varieties of solid wood are more recommended than others for specific areas in the home.
How is engineered flooring made?
Engineered hardwood is up of three to eight layers of veneers on top of each other, which are then glued and heat-pressed together to produce hardwood planks ranging 5/16 inch up to 9/16 inch in thickness. The boards are then cut with a tongue or groove the edges to fit together easily. It is then stained and finished to produce a beautiful piece of flooring.
Engineered hardwood is designed to withstand the effects of moisture and changes in temperature more so than solid hardwood. The design and composition of engineered hardwood permits it to be glued directly to concrete above or below grade.  It is always recommended to put moisture barriers over concrete.
What is meant by a floating floor?
Floating floors are used above the subfloor and are manufactured to click or snap together and "float" instead of being nailed or glued into place like solid or engineered floors. This kind of flooring is most often used over concrete slabs, linoleum surfaces, radiant heat and difficult to remove surfaces.
What is the difference in laminate flooring?
Laminate flooring is highly water resistant man-made product which is different than other types of flooring above which is made from wood.  Laminate is manufactured with a high-density fiberboard core and backed with a melamine laminate.  This type of flooring does well for light commercial flooring and for radiant heat and cement installations. Most laminates have a pad that is pre-attached on the back which makes it easy to install.
Is it possible to put hardwood in a kitchen or bathroom?
Yes, hardwood is an excellent choice for a kitchen or even a powder room and it is a good idea to put a throw rug by the sink to absorb any excess water that can damage the wood.  Be sure to wipe up water as soon as possible.
On the other hand, a full bathroom that is used daily may not be the best option for hardwood flooring since there is often too much water on the floor or humidity that can result in warped or buckled boards. Engineered floorings are best to use in these areas.
Courtesy of diynetwork.com