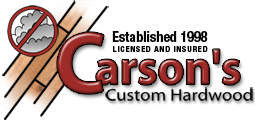 Entryway Flooring

Flooring creates the first impression of a home or office. It provides the right ambiance for a desired setting. Hardwood flooring provides the warmth, elegance and a fresh clean look to any entryway, which will impress guests and clients, as well as provide a comfortable atmosphere. Hardwood flooring never goes out of style and, if properly maintained, can last for decades to come.

Entryway flooring in homes

Hardwood flooring comes in different colors and types of wood. From very dark Brazilian colors to light oak, there is a myriad of choices. When choosing, take into account the amount of foot traffic that will occur through the entry way. The more traffic, the more durable you will want hardwood to be, which is worth the additional cost. Lighter colors of hardwood will make the entrance feel larger and more spacious. Darker colors can provide a rich and seeming expensive tone to the décor. If the foyer is simply to receive guests to the home, less durable wood will create the same effect for less money. It is also easy to update or change the style of décor in the home by changing entry way rugs, without the cost or expense of changing the whole flooring.

Entryway in commercial buildings

The style, warmth and elegant look of hardwood flooring to an entryway for commercial offices and buildings create a lasting impression in the minds of visitors, clients and associates. Hardwood flooring is easy to maintain, is more durable and is easily refinished to accommodate the décor of the building. Also, if environmental and economical factors are important, then the use of bamboo and oak flooring are excellent considerations.

Hardwood flooring, especially in an entry way, is an excellent investment into the value of a home or office. It provides an excellent first impression, is easy to maintain and provides elegance and style. For a quote on the best option for your home or office building, contact the professionals at Carson's Custmo Hardwoods. Let us show you just how easy hardwood flooring can be.