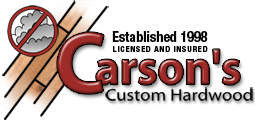 About Us
Established in 1998, Carson's Custom Hardwood Floors specializes in installation, refinishing, restoration and repairs of all hardwood flooring needs. We are owner operated with the owner on each job to insure quality workmanship.

What we do
We offer a uniqueness with custom hand-scraped floors, border work & inlays. We install all hardwood including athletic gym floors, dance floors and stages. We also install over radiant heat. We have all types and species of hardwoods & flooring available from the  very common to the most exotic species.  Woods available in a variety of widths and wide planks, select grades to rustic. We cater to the customers style, needs and wants and the look they desire to have.
Our technology
We have the best equipment available on the market, offering the dust free sanding solution. We provide a cleaner better sanding process for both residential and commercial business. This process eliminates air born dust due to the sanding process. Eliminates dust that would collect on walls and cabinetry as well as electronics and duct work. For customers with health issues & chronic breathing symptoms this system is the cleanest process.
Who we serve
We provide work for homeowners and residential customers. We do work for contractors and builders, interior designers and flooring companies. We service both residential and commercial business. We are licensed and insured. We service all of Utah particularly the intermountain area. We also serve surrounding states.
Awards and recognition
We are the recipients of several awards given in the Utah County Parade of Homes. For quality of work, craftsmanship, workmanship and design. We take pride in our work and our business. We have integrity and want to build life time clients.
Our promise
Our goal is to provide customers with professional service, quality workmanship, top quality products, providing state of the art equipment and value.  We build our business on 100% satisfaction, reputation and customer referrals.