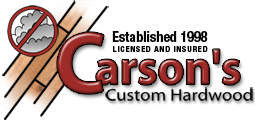 The Hardwood Flooring Experts
Call us today at 801.830.9663 or 801.766.9769 for a free quote!

Specializing in Installation, Restoration, Repair, and Refinishing.
At Carson's, we've been providing Utah custom hardwood floors for home and business owners for many years. Whether you've got a brand new installation, restoration, refinishing, or need a repair to an existing one, Carson's Custom Hardwood Flooring has the right solutions for you.
Located on the northern edge of Utah County, we can easily accommodate hardwood flooring projects in Utah County and Salt Lake County. We provide a high quality product for the home such as kitchens and bedrooms or larger installations like an athletic gym, dance floors, and stages. Let us help you with your next installation, refinishing, restoration, or repair project. When it comes to custom hardwood floors, we're the experts.